Hi Prepperinas! Valentine's Day is tomorrow so I figured I would give you some inspiration for Valentine's Day! These clothes come from ModCloth, www.modcloth.com, Lilly Pulitzer, www.lillypulitzer.com, and Ivivva, www.ivivva.com!
1. BB Dakota Classic Stunner Dress in Floral from ModCloth
This dress would be adorable at a Valentine's Day party with it's classic style and cute floral design!
Price: $99.99
2. ModCloth South Florida Spree Top in Pink Hearts
This top would be really fun for hanging out with friends or at the mall!
Price: $32.99
3. Lilly Pulitzer Ana Sweater in Chic Pink I Heart You Intarsia
This top would also be really cute for just hanging out!
Price: $148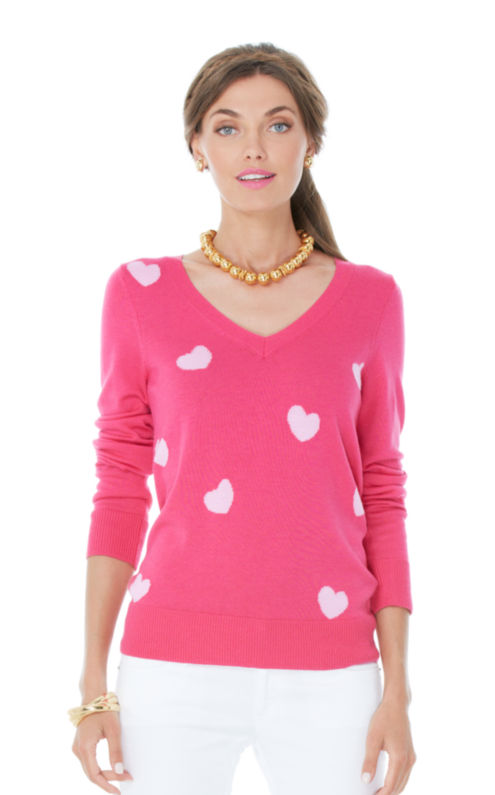 4. Ivivva Perfect Your Practice Jacket in
Pow Pink Light/Space Dye Pow Pink Light/Flash Light/Creamsicle Pop and the Speedster Pant in
Black/Space Dye Pow Pink Light/Flash Light/Creamsicle Pop/Pow Pink Light
This ensemble would be PERFECT for Dance on Valentine's Day! I am a huge fan of both the Perfect your Practice Jacket and the Speedster Pant!
Perfect Your Practice Jacket Price: $78
Speedster Pant Price: $64
As soon as my new Yumiko comes I will be doing a Yumiko Review!
Love and Stay Preppy,
Eva